Choosing the best Medicare Supplemental Insurance plan: A simple guide
At MedicareSupplementalInsurance.com, we're passionate about providing clear, simple information to help you select the right Medicare Supplement insurance plan. Everyone's health needs are different, and wading through the vast amount of information on Medicare and Medicare Supplemental Insurance can at times seem overwhelming. That's why we make it simple.
A Quick Primer on Medicare
Since 1965, Medicare has provided those in the U.S. who are age 65 and over, as well as certain other qualified individuals, with health insurance coverage for hospitalization and other types of health care related products and services.
The program is currently divided into four specific parts. These are:
Part A – Hospital Insurance – this covers any services that you might receive in an inpatient center, such as a hospital, nursing facility, hospice or home care
Part B – Medical Insurance – Part B covers your doctor's visits, outpatient care and some preventative treatments
Part C – Medicare Advantage – this provides some private insurance companies for you to choose from if you don't want Medicare
Part D – Prescription drug coverage
There are two ways to obtain Medicare coverage. One way is to choose Medicare Parts A and B, also known as Original Medicare. In this case, an enrollee can typically receive care from the doctors and other medical providers of their choosing.
The other option for obtaining Medicare is to choose Medicare Part C, or Medicare Advantage. This plan operates in a similar fashion to an HMO (Health Maintenance Organization) or a PPO (Preferred Provider Organization) in that enrollees must generally use the services of those providers who are part of the plan's network.
Which Medicare Option is Best for You?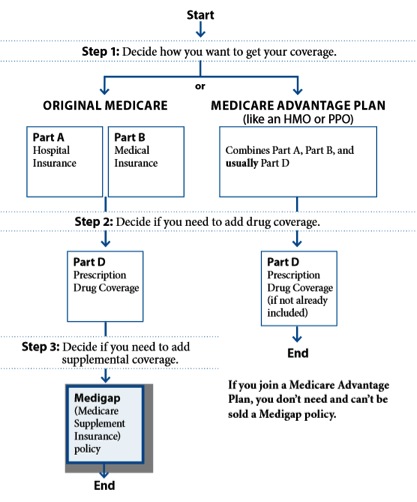 Source: Source: 2013 Choosing a Medigap Policy: A Guide to Health Insurance for People with Medicare
Medicare Eligibility
Those who are eligible for Medicare coverage include:
People age 65 and over.
Individuals who are under age 65 and have been diagnosed with certain types of disabilities.
Those who are any age and who have End-Stage Renal Disease. (End Stage Renal Disease is defined as permanent kidney failure that requires dialysis or a kidney transplant).
What is Medicare Supplement and How Does It Work?
While many people are familiar with Original Medicare, some may not be aware that the program still requires enrollees to pay for a number of uncovered expenses such as deductibles, co-payments, and coinsurance.
Therefore, even though Medicare Parts A and B provide some coverage for your potential health care and hospitalization needs, this program also leaves a number of "gaps" in terms of out-of-pocket costs for enrollees. In fact, although the coverage provided by the government is extremely affordable and beneficial, it tends to cover only 80% of your medical expenses. In many cases these uncovered charges (e.g. deductibles, copays, prescriptions and other expenses) can really add up – potentially even making some services cost prohibitive or causing financial hardship.
This is where Medicare Supplement – oftentimes referred to as Medigap – coverage comes in. These plans are designed to fill in the "gaps" that are left by Medicare's benefits, potentially saving policy holders thousands of dollars per year.
Comparing Medicare Supplement Plans
Today, there are 10 different standardized Medicare Supplement plans to choose from. Each plan is denoted by a letter of the alphabet – starting with Plan A. This Medicare Supplement plan provides the most basic set of core benefits. All of the other Medigap plans include the benefits that are offered in Plan A, along with additional coverage options.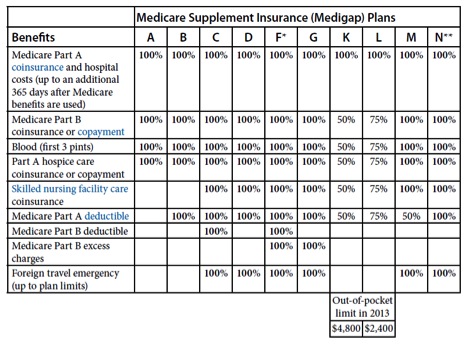 2013 Medicare Supplement Insurance Plans
*Plan F also offers a high deductible plan. If an individual chooses this option, this means that Medicare-covered costs up to the deductible amount must be paid for by the policy holder before the Medigap plan pays for anything. This deductible amount is $2,110 in 2013.
For Plans K and L, after the policy holder meets his or her out-of-pocket yearly limit and their yearly Part B deductible ($147 in 2013), the Medigap policy will pay 100% of covered services for the remainder of the calendar year.
**Plan N pays 100% of the Part B coinsurance, except for a copayment of up to $20 for some office visits and up to a $50 copayment for emergency room visits that don't result in an inpatient admission.
Note: Medicare Supplement Plans D and G that were purchased on or after June 1, 2010, have different benefits than Plans D and G that were purchased prior to June 1, 2010.
Plans E, H, I, and J that were previously available for purchase are no longer offered. However, those who already have a Medigap Plan E, H, I, or J are able to retain these coverages.
Source: 2013 Choosing a Medigap Policy: A Guide to Health Insurance for People with Medicare
Do You Qualify for Medicare Supplement Insurance?
In order to qualify for Medicare Supplement insurance, you must also be enrolled in Original Medicare (Medicare Parts A and B). Individuals who opt for Medicare Part C (Medicare Advantage) will not be eligible to also own a Medicare Supplement insurance policy.
How to Obtain a Medicare Supplement Insurance Quote
When you are ready to purchase a Medicare Supplement plan, there are a few steps that should be followed in order to ensure that you will be purchasing the coverage that is the best solution for your specific health insurance needs.
First, you should determine which of the Medicare Supplement insurance plans will be right for you. In doing so, review the comparison chart that outlines which benefits are offered in each of the available plans.
Next, you should obtain information on which insurance companies in your state offer Medicare Supplement coverage – as well as which plans are offered by each carrier. While all insurance carriers that offer Medigap are required to provide Medicare Supplement Plan A, different insurers may offer only some of the other plan options.
Finally, premium quotes should also be obtained. It is important to note that even though all Medicare Supplement plans of the same letter must offer identical benefits, the premiums can vary a great deal from one insurer to another. Therefore, it is a good idea to obtain quotes from more than one carrier prior to applying for your coverage.
 MedicareSupplementalInsurance.com brings together quotes from top insurance providers all to one place; making it easy and convenient for you to compare rates and save instantly. When you enter your zip code in our quotes box, you will be shown a list of the top providers in your area and will be able to select plans according to coverage and price. By reviewing the different plans offered by these providers, you will be able to build a customized plan that gives you everything you need, and nothing you don't.
How Much Will a Policy Cost?
Premiums for each of the plans are set by several different factors, including, but not limited to, the benefits one receives. The more benefits included in a plan, the more the premium will be. However, it should be stressed, that even though having all coverage creates the safest state of mind, you might not require all benefits, so why pay for something unnecessary? For this reason, plans A through N are all different and offer varying degrees of coverage – and it's important to select the right plan for you before you being shopping for quotes.
In addition to the benefits offered, there are other factors that determine the cost of a policy. Because Medigap plans are issued and sold through private insurance companies, each insurer is allowed to set rates on these policies – so even though the benefits offered for each plan will be the same regardless of who you buy the policy from, the price that you pay for those same benefits can vary widely. As such, it's crucial that you obtain multiple quotes before buying a Medicare Supplemental insurance policy.
There are three key methods for how Medicare Supplemental insurance premiums are determined. These include:
Community-rated (No-age rated) – Using the community-rated premium calculation method, also referred to as no-age rated, the same amount of monthly premium is charged to everyone who has a particular plan, regardless of the policy holders' ages. Even though your premium on a community-rated plan will not increase due to your age, however, it may rise due to inflation or other factors.
Issue-age rated (Entry-age rated) – An insurer that prices Medigap coverage based upon issue-age, or entry-age, will determine your premium based upon the age that you are when you initially purchase your coverage. This is otherwise referred to as the time that the plan was issued. Using this pricing method, premiums will be lower for those who purchase a Medigap plan at a younger age. The premium may, however, go up based on inflation or other similar factors.
Attained-age rated – Using the attained-age premium calculation method, insurers will base your Medigap premium on your current age. This means that the premium will be based on the age that you have "attained." In this case, the Medigap premium will start out low for younger policy holders, and it will rise as the individuals gets older.
In addition to these premium pricing methods, there are other factors that could also have an effect on your total premium due, such as your geographical location, marital status, possible discounts due to living conditions, deductibles and medical underwriting status. You may also be eligible for various premium discounts.
To learn which companies provide Medicare Supplemental insurance in your area, enter your zip code.
How and When to Apply for Medicare Supplement Coverage
The best time to purchase a Medicare Supplement insurance plan is during your Open Enrollment period. This time period starts on the first day of the month in which you turn age 65 and are also enrolled in Medicare Part B, and it lasts for the following 6 months.  
This is the best time to enroll because, during the "Guaranteed Issue Period,"
An insurance company can't refuse to sell you any Medigap policy that it offers
No health exam is required
An insurance company can't charge you more for a Medigap policy than someone with no health problems. This is especially important for individuals with adverse health conditions.
An insurance company can't make you wait for coverage to start, or charge you a higher amount of premium if you have a pre-existing health condition. (This is not the case if you purchase a Medicare Supplement plan outside of your guaranteed issue or open enrollment period, however in many cases, a waiting period for coverage of pre-existing conditions is typically not an issue with Medicare Supplement coverage).
Once you have been accepted for a Medicare Supplement plan, as long as you keep making premium payments, your carrier is obligated to automatically renew your plan. This can also be especially beneficial for those who have adverse or pre-existing health conditions.
In addition, there are annual Open Enrollment periods where you can buy a new Medigap policy or change your existing one, with the same benefits as described above.
If you are not in your Initial Open Enrollment period (around your 65th birthday) or an Annual Open Enrollment period , you may still apply for Medigap coverage but, except for in the case of specific Guaranteed Issue Rights, your acceptance and premium rate cannot be guaranteed.  For example, if you are not applying during Open Enrollment, there is a possibility that, based on their underwriting requirements, an insurance company can refuse to sell you the Medigap policy.
Open Enrollment 2013
Open enrollment is a short period of time each year where those who qualify for Medicare are able to make changes to their Medicare supplement plans quickly and easily. During this time, you are able to add additional services to your plan, remove any unnecessary services, enroll in a plan, or cancel your Medicare supplement plan entirely. For 2013, open enrollment is from October 15, 2013 until December 7, 2013. Although this time period is specifically designed to allow you to change your plan, there are still special limitations that differ depending on location and need. Be sure to check with your policy provider to find out if there are any limitations to the changes which you desire to make.
There are often changes to Medicare and Medigap so we've provided a useful summary of Medicare updates for 2013-2014
Applying for Medicare Supplemental Insurance
No matter the time of year, it is in your best interest to make sure that you have the best possible Medigap policy available. Contacting a Medicare Supplemental Insurance specialist is the best way to make sure that you are getting the right amount of coverage at the best rate available.
Taking the next step is easy, simply enter your zip code to see a list of Medicare Supplemental insurance providers in your area. Remember that prices for the same policy can vary a great deal across insurers, so it's important to get quotes from 3-4 insurance companies before buying a policy
MedicareSupplementtalInsurance.com brings you quotes from the country's top Medigap providers, so you can be assured of receiving quality coverage that will be there when you need it – both now and in the future.
By Susan Wright
About the author
Susan Wright has been working in the insurance and financial services industries for over 20 years. She earned her MBA degree from St. Louis University, and her BA degree from Michigan State University. Susan has been licensed as an insurance agent and FINRA securities broker. In addition, she has earned nine professional designations, including: – CLU (Chartered Life Underwriter)
– ChFC (Chartered Financial Consultant)
– RHU (Registered Health Underwriter)
– REBC (Registered Employee Benefits Consultant)
– CSA (Certified Senior Advisor)
– CLTC (Certified in Long-Term Care)
– CCFC (Certified Cash Flow Consultant)
– CSS (Certified Seniors Specialist in Real Estate)
– ADPA (Accredited Domestic Partnership Advisor)
Learn more about Susan on Google+
Advertisement: Do you have the peace of mind of knowing that your final expenses will be covered in the event of your death? Burial Insurance can help. Find out more today.